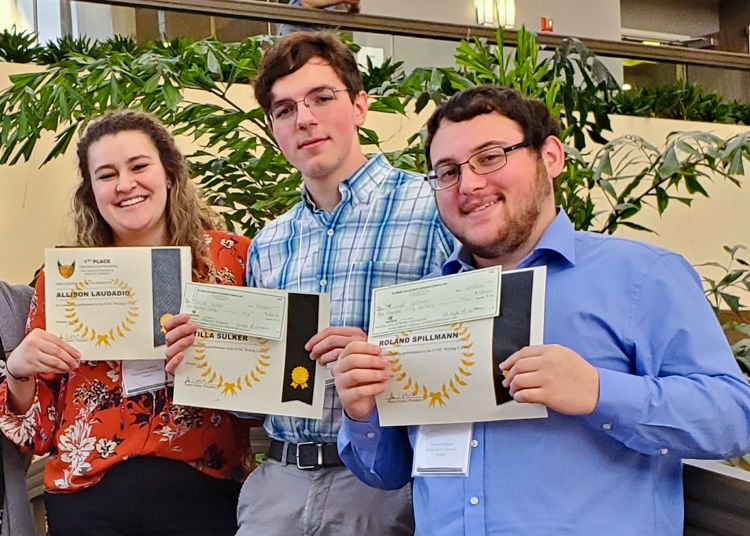 "The FSU Honors program expertly prepared me for the trials that accompany a massive research project. The Honors faculty members truly want to see their students to succeed." - Allison Laudadio
The 2020 Florida Collegiate Honors Council's (FCHC) annual conference took place during the weekend of February 7-9, 2020 at Florida Atlantic University in Boca Raton, Florida.  Six FSU Honors Program students, accompanied by Dr. Annette Schwabe, Director of the FSU Honors Program, and Dr. Yana Bebieva, Postdoctoral Associate with Geophysical Fluid Dynamics Institute at FSU, attended the conference, which was hosted by the Harriet L. Wilkes Honors College. 
At the conference, four of our Florida State University Honors Program students were given awards in the writing categories for Fiction/Poetry and Freshman Writing: Atilla Sulker, Allison Laudadio, Roland Spillman and Elizabeth Steidly. 
Fiction/Poetry Winners
Atilla Sulker, First Place (Presented at the conference)
Freshman Writing Award Winner
Allison Laudadio, First Place (Presented at the conference) 
Roland Spillman, First Place (Presented at the conference)
Elizabeth Steidly, Honorable Mention
In addition, two Honors students also gave poster presentations at the conference, based on their research in their Honors Experience Program's Scientific and Social Dimensions of Climate Change course: Luciano Bettocchi and Abril Hunter. 
Poster Presentations 
On behalf of the FSU Honors Program, congratulations on your achievements and recognition at the conference!
"I would say the Honors program was very effective in preparing us to submit our works. In our Honors classes, they really give us the opportunity to explore and discuss topics that many other courses would probably not breach. Considering the work I submitted was a final research paper for Dr. Owens's "America Abroad" course, I believe that the Honors and HEP program really allows us to think critically and engage with not only coursework but outside topics and themes as well." - Roland Spillman
title-inside title-centered
2