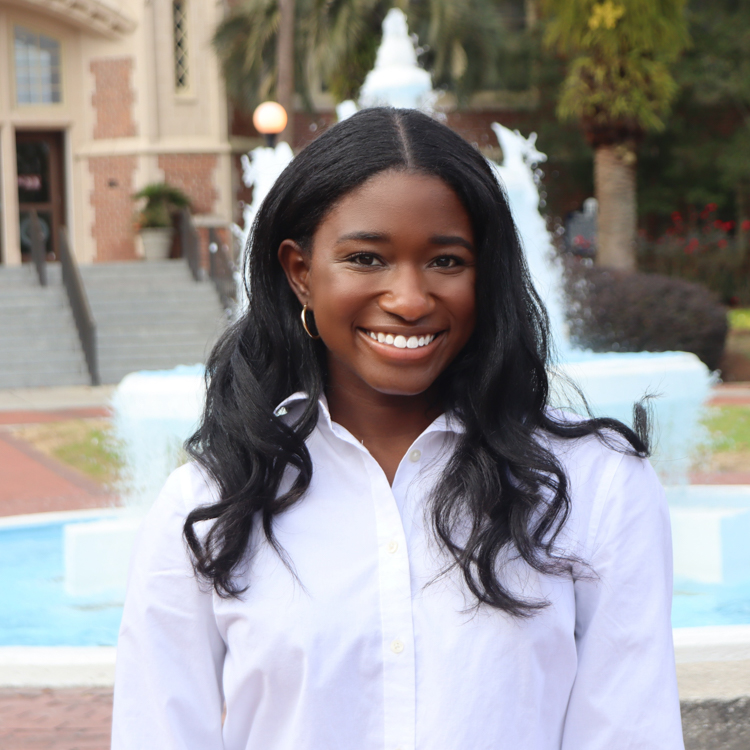 Abril Hunter
Major:  Environmental Science and Policy  Minor:  Urban Regional Planning
FSU Involvement:  Presidential Scholar, Honors Program, Honors Experience Program, Undergraduate Research Opportunity Program (UROP), Florida Collegiate Honors Council Presenter, Renegade Leadership Honor Society, W.E.B. Du Bois Honor Society, Student Government Association Senate, Alliance for Black Women, Power of WE, Phi Eta Sigma Honors Society
Award:  National Oceanic and Atmospheric Administration's Hollings Undergraduate Scholarship
---
April 16, 2021
The Honors Program would like to congratulate and recognize Presidential Scholar and Honors Student, Abril Hunter, on being selected to receive the National Oceanic and Atmospheric Administration's (NOAA) Hollings Undergraduate Scholarship. "[This] scholarship program provides undergraduate applicants with a scholarship award for two years of full-time paid internship. Undergraduate awardees are allowed to choose which research facility and team they would like to work with during the summer."[-Abril Hunter]
The faculty and staff of the Honors Program, as well as Dr. Yana Bebieva, Postdoctoral Associate at Geophysical Fluid Dynamics Institute, Florida State University, wish you many successes with this new opportunity and look forward to hearing more about your research. Congratulations!
QUESTIONS FOR ABRIL:
What is the NOAA Hollings Undergraduate Scholarship and how did you hear about it?
"The NOAA Hollings scholarship program provides undergraduate applicants with a scholarship award for two years of full-time study and a 10 week full-time paid internship. Undergraduate awardees are allowed to choose which research facility and team they would like to work with during the summer; however, I've not decided yet as I was recently notified.
I heard about the NOAA Hollings Undergraduate Scholarship Program from fellow Presidential Scholars, Anna Wuest and Jonathan Marcus. I worked on an executive board with both of them during my freshman year. They told me about the opportunity they had with the NOAA Hollings Undergraduate Scholarship Program, and it sounded terrific. I've always dreamed of working for the government in a meaningful way, whether through environmental policy, legislation, or research. Once I learned about this program, I knew that it was something I had to apply for."
What led you to study Environmental Science and Policy?
"During high school, I did four years of environmental science research into removing pollutants from water motivated by the Flint, Michigan Water Crisis. Although I have had the opportunity to live my whole life in a clean environment and with access to clean water, less than nine hours away from my house, people could not say the same thing. When I watched the water in Flint, Michigan turn some clear to brown, I felt as though my own water was no longer safe. I no longer saw clean water as guaranteed but contingent upon location and race. I can no longer see environmental science without intersectionality with racial justice, economic justice, and social justice. I knew majoring in environmental science and policy was the best way to learn more about the environmental intersections."
Could you share a little bit about the Honors Experience Program (HEP) course you took on climate change with Dr. Yana Bebieva?
"In [the] HEP, I had the honor to take the Social and Societal Dimensions of Climate change course with Dr. Yana Bebieva, and it was simply life-changing. It is my favorite course I've taken during all of my time at Florida State University. In this course, we were tasked with the final project: to choose an area that would be significantly impacted by climate change soon, research, and present on it. I chose Lagos, Nigeria. I researched infrastructure changes that need to be made in Lagos to adapt to climate impacts. The title of my research was 'Climate Change Readiness in Lagos, Nigeria: Current Impacts and Prospects.'
I earned the opportunity to present my research at the  [2020] Florida Collegiate Honors Council [Conference] in Jupiter, Florida. During my time at the [conference], I had an invaluable conversation with a man from Lagos, Nigeria. He vocalized the importance of coastal climate research in Lagos and his concern that not enough government officials and researchers were considering the effects of overpopulation and climate change in the most populous city in Nigeria. He was proud that I had taken on this endeavor. At that exact moment, I knew I was continuing to accomplish my goal of changing someone's world."
---
Dr. Yana Bebieva, Geophysical Fluid Dynamics Institute, Florida State University
"I have known Abril Hunter since September 2019 when she took my class ISC 2937 "Scientific and Social Dimensions of Climate Change". During the class, she performed well, finishing up the course with grade A and was among the top 5% of students. The final assignment for the course was a research project involving numerical experiments with the Global Climate Model (EzGCM) developed by Columbia University and NASA's Goddard Institute for Space Studies. Working on her final project, Abril showed a very high level of dedication. She demonstrated the ability to pose scientific questions about the role of climate change impacts and conduct independent research on the selected topic. Abril showed an excellent ability to synthesize the class material with the different sources from the textbooks, scholarly articles, news, documentary films, and TED talks." 
title-inside title-centered
2