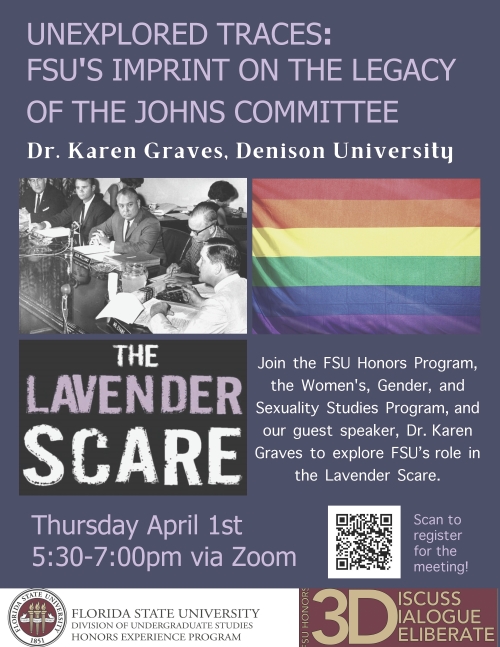 Unexplored Traces: 
FSU'S IMPRINT ON THE LEGACY OF THE JOHNS COMMITTEE
Written by Kelsey Gross*
On April 1, 2021, over 80 Honors students, HEP faculty, and community members welcomed Dr. Karen Graves as she presented "Unexplored Traces: FSU's Imprint on the Legacy of the Johns Committee," in which she analyzed the traces of the Florida legislature's Johns Committee here at FSU and how it compared to traces of the committee in other Florida colleges and schools. Dr. Graves is also the author of the book, And They Were Wonderful Teachers: Florida's Purge of Gay and Lesbian Teachers, which is about the institutional and societal hostility towards gay and lesbian teachers in schools from 1956 to 1965. This event was hosted by Honors faculty, Dr. Christina Owens and co-sponsored by FSU's Women's, Gender, and Sexuality Studies Program and the Honors Program.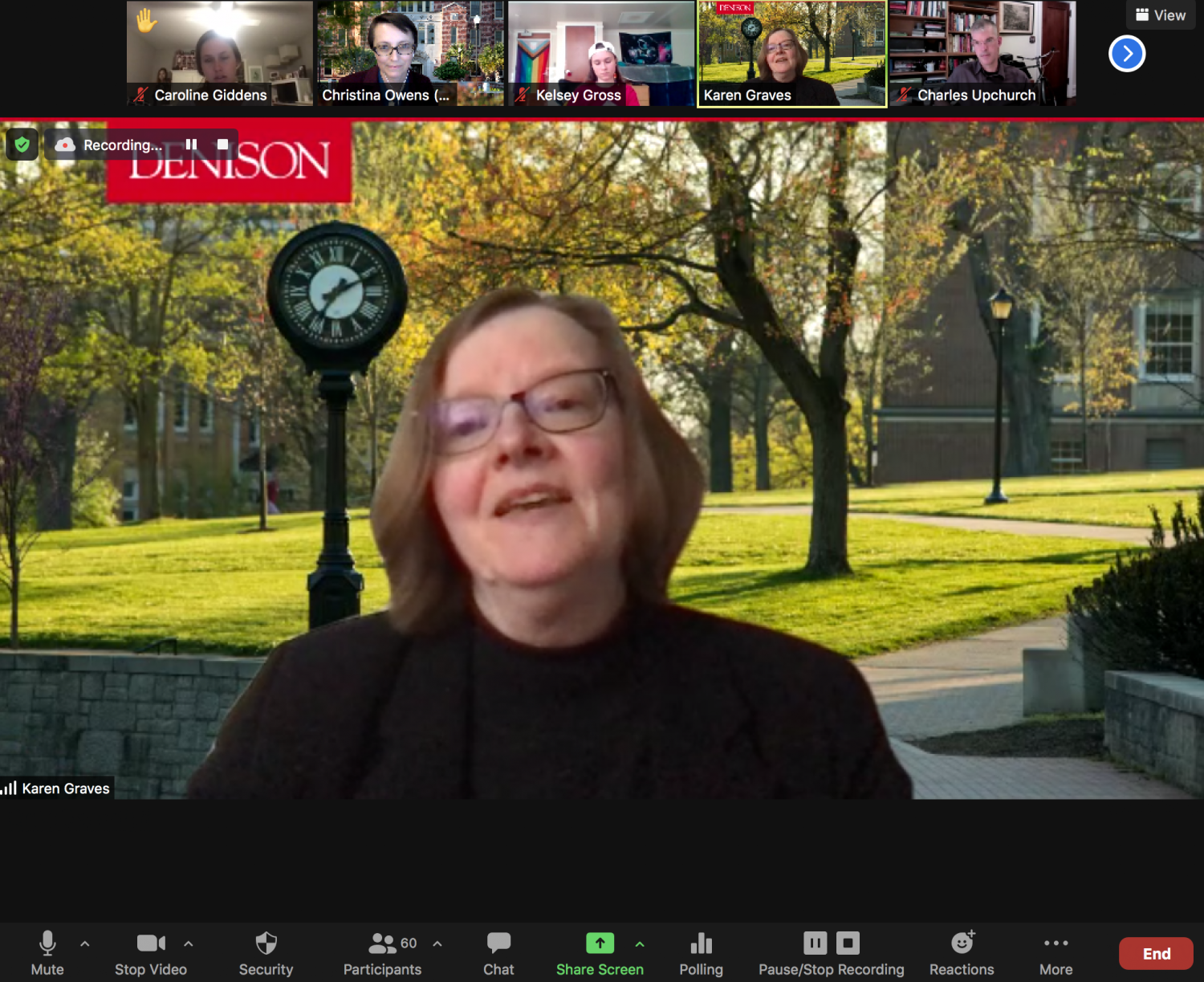 Dr. Karen Graves is currently a professor and the Chair of Educational Studies at Denison University in Granville, OH. Her research has largely focused on the impact of gender and sexuality on legal policies within the field of education. Her primary focus in And They Were Wonderful Teachers is on purges in elementary and secondary schools. Despite that, in this event she analyzed a cumulation of existing research on the Johns Committee to find how it impacted the FSU campus. More about Dr. Karen Graves and her work can be found here.
The Lavender Scare took place at the height of the Cold War era, during the '50s and '60s, when McCarthyism linked communism and homosexuality. In the lecture, Dr. Graves gave the history of the Lavender Scare in Florida and its links to FSU. She found that it was not just teachers targeted here at FSU but students as well. Those students were told that they could either attend therapy every week or leave. Despite the targeting of students on FSU's campus, the main focus at the time was teachers. Around 1963, the State Department of Education took over the monitoring and purging of gay and lesbian teachers and the Johns Committee itself disbanded in 1965. The issue with that, according to Dr. Graves is that as a "…long standing part of state government, it just became baked in for a long time to keep an eye on teacher behavior, on educator behavior." She noted that the Johns Committee was the harsher and more egregious perpetrator in the purge, but in the state of Florida it was not just this committee that was at fault. A documentary, called The Committee, that covers much of the Johns Committee's reach can be found here.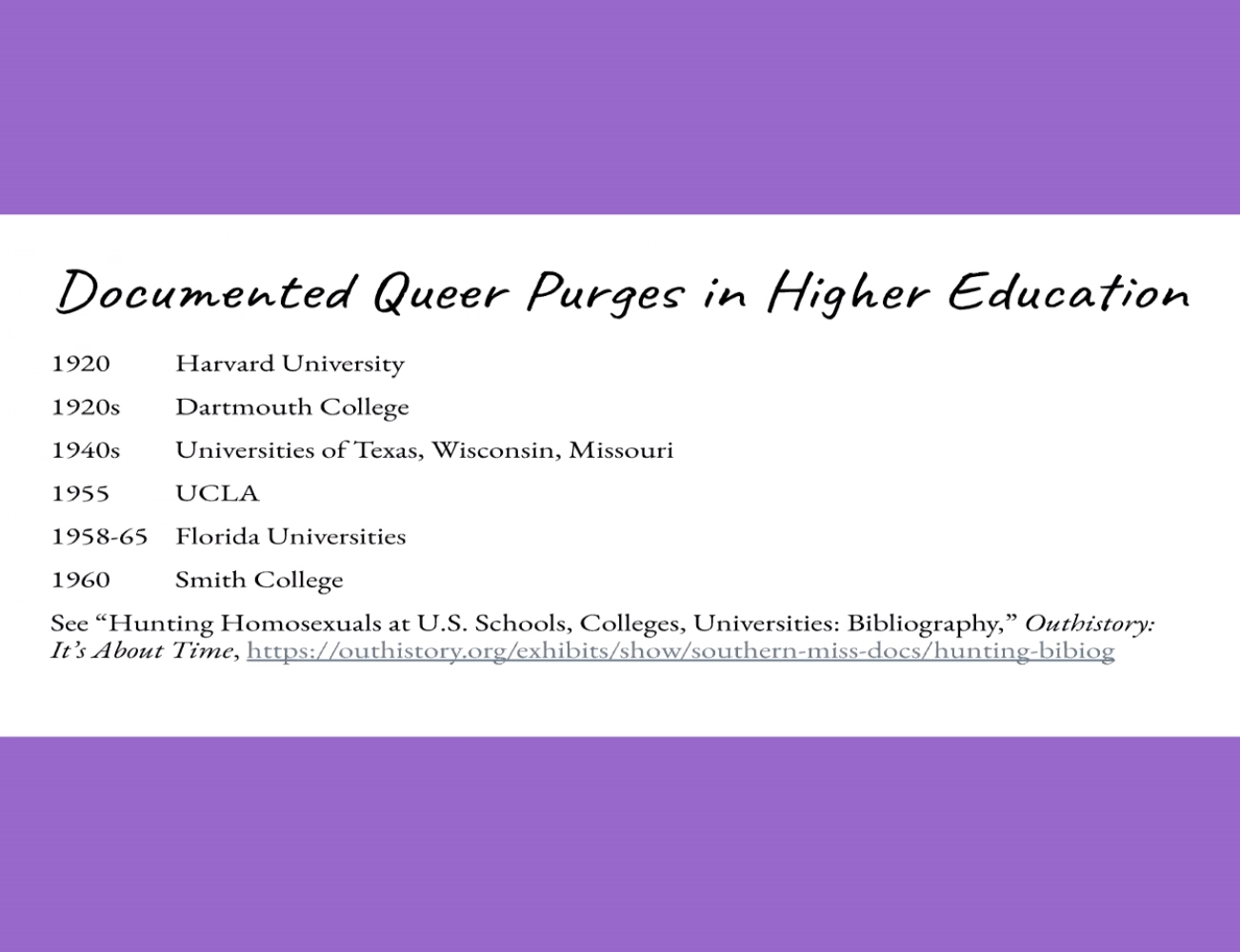 Those who attended the event learned from Dr. Graves' research how harsh society was, and still is, to gay and lesbian teachers, no matter the grade level. One student, Elle Schutte, stated that, "This is a prime example of a lack of freedom and equality for members of minority groups in the community at a local level." She went on to note that in her Honors class, Radical Visions of Freedom, "we discussed the fight for queer freedom and equality in the United States, and we analyzed how much of a struggle it has been for members of the queer community to obtain basic rights and respect from the government and other members of society." Dr. Graves' lecture provided a case study that highlighted the struggle for LGBTQ+ liberation here on our campus, emphasizing a history that is often forgotten and ignored.
---
*Kelsey Gross is a second year honors student (Class 2025) from Winter Haven, FL, majoring in Mechanical Engineering. Having recently taken "Radical Visons of Freedom: Imagining Black and Queer Liberation" with Dr. Christina Owens this past spring, she is looking forward taking more HEP classes in the future.
title-inside title-centered
2