Anne Auchter
RELIGION
Thesis: Designing Religious Landscapes: Gardens and Sacred Spaces in South Asian And European Contexts
(Link to HITM project coming soon.)
Questions for the student:
Where are you from?
"I am from Jacksonville, Florida."
In a few sentences tell us about your Honors in the Major project! How would you describe it to someone not in your academic field?
"My honors thesis explores the integration of South Asian design elements into Western garden design and the integration of Western landscape design standards and botanicals into South Asian garden landscapes beginning in the Early Modern Era. To document this process of exchange, my study incorporates a wide range of sources, including garden manuals, literary works, and visual art materials. Through comparative analysis of these sources, I show how the visual depictions and conceptions of aesthetic elements as highlighted in pictorial records and the instructive literature on garden design influenced the aesthetic design of landscapes in colonial South Asia. Understanding how gardens and sanctified sites have been used historically as spaces to narrate cultural and political histories, we can critique colonial constructions and develop sustainable practices in landscape design and heritage management."
How did you choose your mentor, and what do you recommend students interested in starting an HITM project look for in a mentor?
"I asked Dr. Cecil to be my honors in the major mentor after taking her course titled Goddesses, Women & Power in Hinduism. The course introduced me to scholarship that utilizes iconography, material art, and spatial practices to uncover religious practices and traditions. The methodology of her instruction inspired me to look at gardens and sacred spaces as a means to consider religion as a lived practice situated in material and spatial contexts. Once I decided to pursue an honors thesis and informed her of my project, she instantly supported this pursuit. When looking for a mentor, first identify what areas you hope to learn more about and then determine which professor can best aid you in uncovering that information. Asking questions and receiving feedback is very important in writing an honors thesis, so it is essential to choose a professor like Dr. Cecil, who is encouraging, responsive, and an effective communicator."
What are your plans after you graduate from FSU?
"After I graduate from Florida State University, I will be interning at the Maine Maritime Museum as a collections steward. In this capacity, I will catalog and process collections so that they can be developed and shared for the benefit of the Maine Maritime Museum and its visitors. In the Fall, I will be attending the University of Cambridge to work towards an MPhil in Heritage Studies. I intend to work in the cultural heritage sector following my master's degree."
---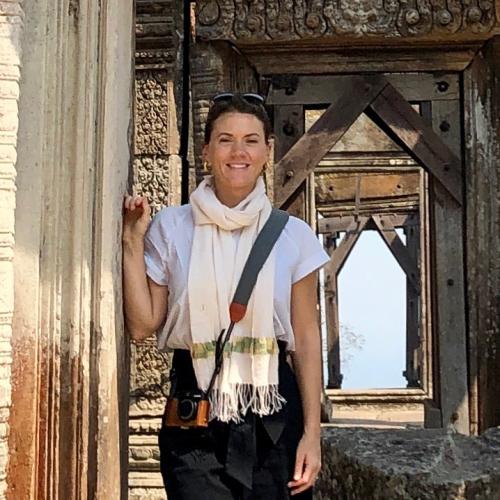 Elizabeth Cecil, Ph.D.
assISTANT professor, DEPARTMENT OF RELIGION
thesis director
Questions for the mentor:
What motivates or inspires you to mentor undergraduate students?
"In my current position at FSU and in previous positions, I've served as a mentor and advisor to M.A. and Ph.D. students in the fields of religion and Asian studies. Working with Anna was my first experience serving as an undergraduate mentor for an Honors Thesis. I was initially concerned about my lack of experience in this mode of mentorship, but the process has been inspiring and immensely productive. I enjoyed getting to know Anna and learning more about her goal of pursuing the study of cultural heritage at the graduate level. Together we developed a project that would support this long-term academic goal by helping her to gain competencies in archival research, digital humanities, and the analysis of primary literary and material sources related to tangible heritage. It was very gratifying to feel that I had supported her success at the undergraduate level, while also playing a role in thinking about how this project might serve her in the future."
What do you think characterizes a good mentoring relationship between student and honors thesis mentor?
"As a mentor, I value and support independent inquiry. Yet encouraging independence does not imply a hands-off approach. In helping Anna to develop her project, I emphasized my availability and enthusiasm to listen, think together, and work collaboratively to seek solutions to challenges (both professional and personal) that arise in the research process. This requires seeing the students as mentees and peers. As complex individuals with interdimensional needs. Sometimes we need space to be curious and imaginative, and sometimes we need critical feedback to move to the next phase in our research process. I approach these interactions with a concern for reciprocity. In addition to offering my expertise and support, I have also gained so much from Anna's research."
title-inside title-centered
2