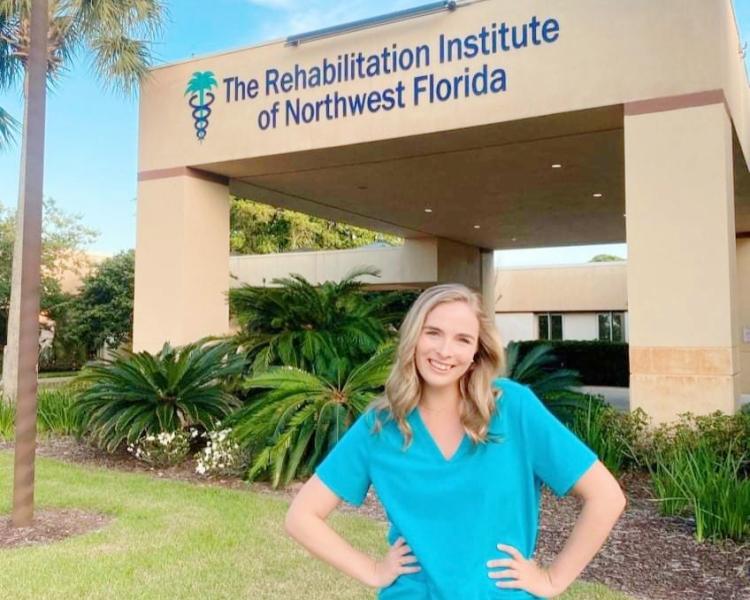 ---
 Ashley Archer is an Honors in the Major alumna, who graduated in the spring term of 2019 with Bachelor of Science in Communication Science & Disorders. Under the direction of Dr. Elizabeth Madden, Ashley completed an undergraduate thesis titled, "The Effects of Cognitive-Linguistic Load on Gait Performance in Persons with Aphasia." She went on to publish her thesis work together with Dr. Leonard LaPointe and Dr. Elizabeth Madden, both from FSU's School of Communication & Science Disorders. In November 2019, Ashley presented her work in the form of a poster presentation at the American Speech-Language-Hearing Association (ASHA) Convention in Orlando, Florida. When asked about the poster presentation, Ashley shared that it "was conducted individual research that provide[s] professionals and caregivers feedback on possible consequences in balance and walking when diagnosed with aphasia."  Her research earned her a Meritorious Poster Recognition Award and was in the top 3% of the 1,874 submissions.
During Ashley's time at FSU, she presented her research to physical therapy and occupational therapy doctoral students from Florida A & M University. The presentation, which was "part of a larger initiative to encourage interprofessional practice among a wide spectrum of health science disciplines", focused on the use of the innovative GaitRite technology to "study the effects of cognitive demands on gait for patients with aphasia."
Currently, Ashley works as a Speech Language Pathologist Clinical Fellow at the Rehabilitation Institute of Northwest Florida in Destin, Florida. "[My position] is a mentored professional experience allowing a transition between being a student enrolled in a communication sciences and disorders (CSD) program and being an independent provider of speech-language pathology clinical services...My responsibility as part of the rehabilitation team is to assess, diagnose, and treat cognitive communication, speech. language and swallowing disorders. I get the incredible opportunity to serve patients alongside an excellent team of doctors, nurses, occupational therapist[s], physical therapist[s], and speech therapists every day."
---
Convention Presentation:
Archer, A., LaPointe, L., & Madden, E. B. ( 2019, November). The Effect of Cognitive-Linguistic Load on Gait Performance in Persons With Aphasia. Poster presentation at American Speech Language Hearing Association Convention, American Speech Language Hearing Association, Orlando, FL.
Further Reading:
2021. "Ashley Archer wins ISL Poster Day competition with presentation on walking and aphasia," Institute for Successful Longevity (Florida State University), March 15, 2021.
title-inside title-centered
2