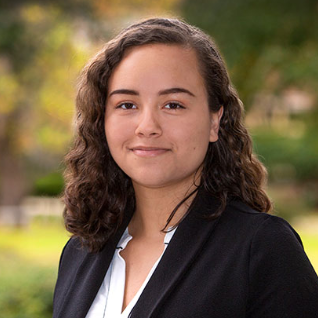 Celina Meyer
Psychology
Bess H. Ward Thesis Award
Buffering the Effects of Early Adverse Experiences on Executive Function
Questions for students:
Where are you from?
I'm from Orlando, Florida.
In a few sentences tell us about your honors thesis! How would you describe it to someone not in your academic field?
My honors thesis is my passion project. It looks at how adversity in childhood affects someone cognitively and emotionally in adulthood and we are excited to be using EEG brain scanning in order to measure that.
How did you choose your mentor, and what do you recommend students interested in starting an honors thesis look for in a mentor?
I once had a professor who talked passionately about the topic I was most passionate about, child adversity. I worked up the courage to walk up to her and ask her to become my mentor and she unfortunately was planning on retiring. However, she introduced me to a faculty member who is just as passionate about it as I am.
What are your plans after you graduate from FSU?
After I graduate, I plan to apply to graduate programs in hopes to attain a Ph.D. in clinical psychology.
---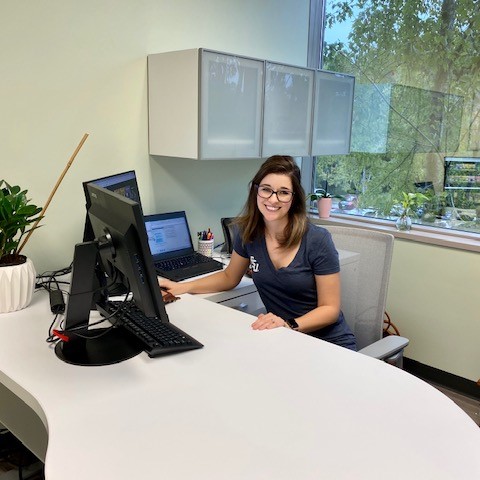 Julia Sheffler, Ph.D.
RESEARCH FACULTY, COLLEGE OF MEDICINE
Thesis Director
Questions for mentor:
What motivates or inspires you to mentor undergraduate students?
I strongly believe that undergraduate students play an invaluable role in improving the quality of research my lab produces, through new perspectives, energy, and collaboration. I really enjoy being able to provide a true out-of-classroom learning experience where students can gain a better understanding of research and how to apply it to their own lives and career goals. I know I wouldn't be where I am without good mentorship, and I want to pay that forward to the next generation of researchers and clinicians.
What do you think characterizes a good mentoring relationship between student and honors thesis mentor?
I think that collaboration, support, and compassion are key. I want to provide my students with the support to explore their big ideas, while balancing that with input to ensure feasibility. I think the best work comes from working toward a clear goal, so I try to make sure my student's thesis is important to them and move them toward their personal goals. I also try to recognize and remember how difficult undergraduate life can be, when things occasionally fall through the cracks.
title-inside title-centered
2