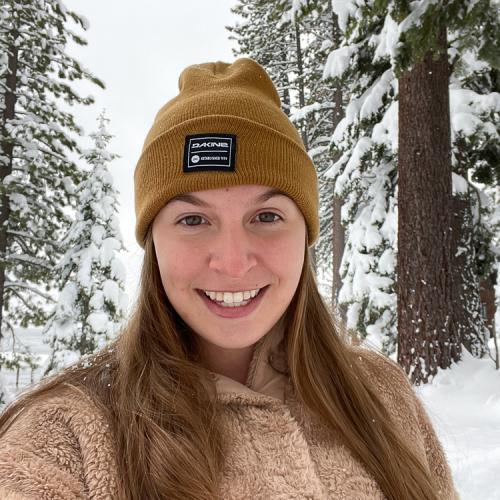 Elena Villamagna
Major: Public Health. She plans to add Statistics for a dual major.
Minor: Elena plans to add Anthropology as a minor.
Campus Involvement: Undergraduate Research Opportunity Program (UROP);  Elena is also working toward her Global Citizenship Certificate.
Anticipated Graduation: Spring 2024
The Honors Program enjoys featuring our wonderful and hardworking students every month. This month, we had the pleasure of interviewing Elena Villamagna, whose major is Public Health. Prior to attending FSU, Elena took a gap year, during which she completed her doula certification through DONA, worked on organic farms, and provided translation services--Spanish to English. She has also been working on a UROP research project on the postpartum period following a woman giving birth. Elena hope to one day have a career in midwifery.
Below is an e-interview conducted by honors work study student, Thalia Valdes, with Elena to learn more about her experiences at FSU and the Honors Program.
---
Tell me a bit about yourself. 
"I am from Largo, Florida. However, I did not move to Florida until I was 8. Before then I lived in Virginia and Wisconsin...I am vegan and consider myself an advocate for animals and the environment. I love to do yoga and I am a certified yoga instructor. I enjoy being in nature and gardening. I also love all things water--I was a synchronized swimmer for eight years, I like to surf and wake board, and I also did varsity swim team throughout high school."
What informed your decision to pursue your BA/BS at Florida State? 
"The Gap Year Fellows Program is what made me decide to attend FSU over UC Berkley. At FSU I have found ways to engage in things that I am passionate about, such as learning about other cultures through the Global Citizenship Certificate or engaging in research through UROP. I am eager to take advantage of the Global Exchange Program here at FSU and I hope to spend at least one semester abroad at a partnering university."
What is your major, and what led you to select it?
"I am a Public Health major. I have always known that I want to be a midwife but was unsure how to get there. I researched a lot of majors and went back and forth for a while. However, after taking an Honors Signature Course my first semester from Dr. Coutts (Green Global Health), I knew Public Health was the route I wanted to take. Public Health looks at not only the health of individual people but also the health of the surrounding environment and how that impacts people as well...I want to add on a Statistics dual major because I would like to do research in the future, and I feel like having a deep understanding of statistics will allow me to communicate my own findings better to those around me. I also enjoy math and problem solving and want to keep developing that side of my intellect as well."
Tell me about your experiences with the Honors Program.
"The Honors Signature Courses have been my favorite classes. Dr. Coutts and Dr. Underwood are incredible people with a real passion behind what they teach. Their classes intrigued me, and I was excited about what I was learning in each of them; they have really made my experience here at FSU."
What were you involved with during your gap year?
"I worked on organic farms through the organization WWOOF. I was in Hawaii for two months, central Florida for one month, Indiana for one month, and St. Croix (USVI) for two months... I completed my doula certification through DONA [and] attended three mothers during their births. My career aspiration has always been to be a midwife and to study indigenous birthing practices and the different cultures surrounding birth, pregnancy, and postpartum. My work as a doula has only solidified these goals. I also translated letters from Spanish to English from kids in Oaxaca, Mexico to their education sponsors. And I helped on Spanish audiobook projects."
Please share about your UROP research project.
"I am working with Dr. Jessica Bahorski in the College of Nursing. The project title is "Identification of Research Priorities during the 4th Trimester in Maternal-Infant Dyads." There is a vast gap in research pertaining to the postpartum period, and our goal is to understand the top issues that women are experiencing so that they can be named and researched more in depth in the future. We are still in the preliminary stages but are hoping to have our research survey go live by the end of the month so we can begin to collect data. For my own research purposes, I am looking at the impact employment has on maternal and infant outcomes."
[Elena attended the Florida Undergraduate Research Conference in February 2022 and presented her research.]
title-inside title-centered
2