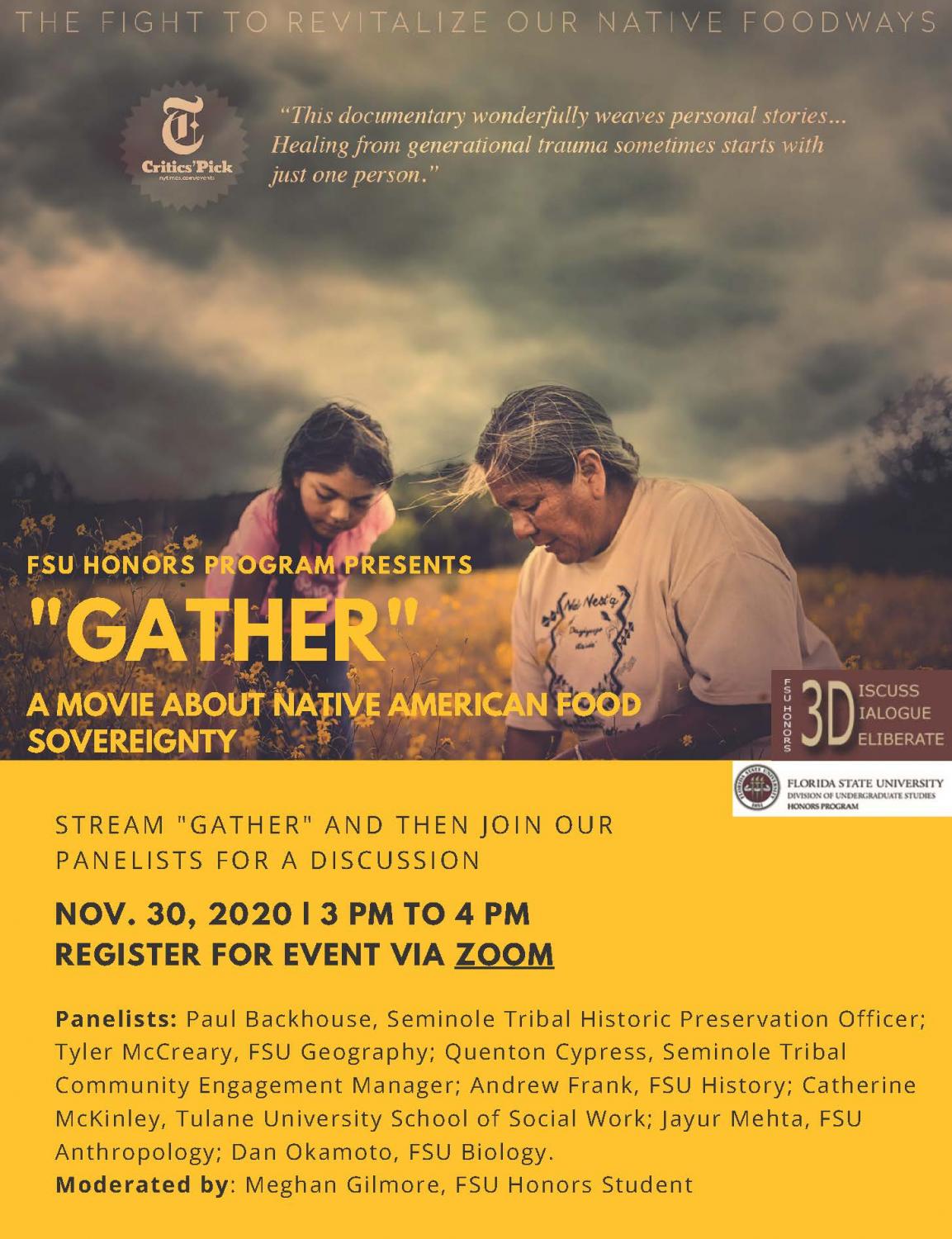 Panel Discussion of "Gather"
A MOVIE ABOUT NATIVE AMERICAN FOOD SOVREIGNTY
The FSU HEP program held a screening and panel discussion of the new documentary film "Gather" about Native American food sovereignty. The event was organized by Dr. Nora Underwood, who learned about the film through teaching her Honors course on "The Ecology of Food". The film was viewed by over 100 members of the FSU community, and the discussion afterward was attended by over 60 people from FSU and beyond. Meghan Gilmore, FSU HEP student and Presidential Scholar, led the discussion, and the panel included faculty from across campus*, along with Dr. Paul Backhouse from the Seminole Tribal office, and Dr. Catherine McKinley from Tulane University.
---
*Florida State University panelists included Dr. Nora Underwood (Biological Science); Dr. Tyler McCreary (Geography); Dr. Andrew Frank (History); Dr. Jayur Mehta (Anthropology); and Dr. Dan Okamoto (Biology).
---
"This project comes directly from the cultures of my two campus homes: the Department of Biological Science and the Honors Program, both of which support interdisciplinary collaboration and are searching for ways to broaden diversity, inclusion and equity at FSU. Biological Science's support for the Honors program allows me to teach an Honors seminar (The Ecology of Food); research for that course introduced me to this wonderful film. The intersection of my work with Honors students, and with the Biology Diversity Equity and Inclusion committee made it clear to me that this film is something from which our campus would benefit. The amazing environment of intellectual exploration and exchange among disciplines created by the Honors program gave me the idea for the screening, and their financial support made it possible. The panelists and student moderator all agreed to join in immediately and with great enthusiasm, which speaks to the importance of this subject at this time." - Dr. Nora Underwood, Department of Biological Sciences
---
The panel discussion was part of the Florida State University's celebration of Native American Heritage Month. Read more about the two events that were sponsored by the FSU Honors Program and the Department of Art History.
To learn more about Native American food sovereignty and other important issues, please visit:
title-inside title-centered
2