Friends of Honors and Scholars
Friends of Honors and Scholars (FHS) is an organization of FSU alumni and friends who offer financial and professional support for the FSU Honors Program. Annual memberships are available at various levels of giving. The Friends provide funding to enrich the educational experience of Honors students. The organization offers its members various opportunities to interact with current students and one another through professional and social events.
We are currently restructuring the FHS webpage.  Please save this link and check back periodically for important updates and information! 
Benefits to Students:
Conference travel awards
Study Abroad travel awards
Support for internships
Guest Speakers
Support for recruitment events
Honors program enhancements
Benefits to You:
All Members:
Annual Newsletter: Current student's activities and awards; alumni recognition and news.
Email updates on FSU/ FHS calendar and campus news.
Honors Decal
To send in your membership by mail, please use this form.
Social Media Platforms:
Address:
Florida State University Honors Program
University Honors Program
Honors, Scholars, and Fellows House
127 Honors Way, Suite 3002
Tallahassee, FL 32306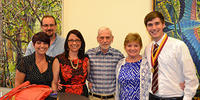 title-inside title-centered
2