The Honors Program offers in person and virtual opportunities to meet with an honors advisor.
In-Person Sign In
Please make sure to bring your FSU ID card. You will need it to swipe in at the kiosk to let us know that you are here. The kiosk is located opposite the front desk in the Honors Office Suite (HSF 2003).
Scheduled Appointments
Honors advisors will be offering in-person and Zoom appointments throughout the week in accordance to their availability for the Spring 2022 semester. To schedule an appointment with an honors advisor, please follow the directions for utilizing Campus Connect.
Log into myFSU and select the CC icon on the top left
Click on Get Advising
Select the type of appointment: Special Programs
Select the location: Honors Program Advising
Select the reason: Honors in the Major Advising or Honors Program Advising
Select your appropriate honors advisor
Check your email for a Confirmation Email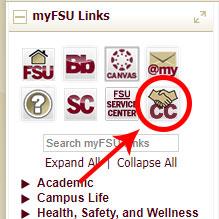 title-inside title-centered
2