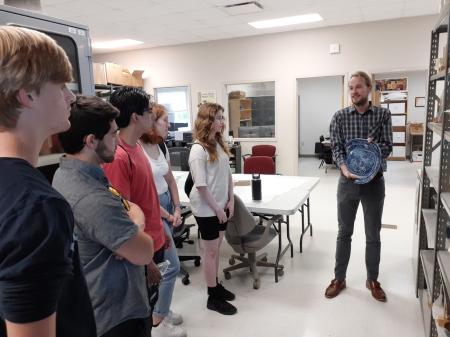 Honors Summer Field Trip to the Bureau of Archeological Research Collections 
IDS 3340 - Who Owns the Past: Ethics in Antrhopology
On Monday July 18th, 2022, The Ethics in Anthropology class, led by Dr. Geoffrey Thomas (FSU Department of Anthropology), visited the Bureau of Archaeological Research (BAR) Collections facility. As part of the Florida Department of State, this facility houses, curates, and maintains approximately 5 million archaeological objects from across the state. The primary objective of the BAR is to maintain legal stewardship of the material, as defined in §§ 267, Florida Statute, and to ensure that all state and relevant federal laws regarding archaeological ownership and conservancy are being met.
During the visit, students were introduced to artifacts from Florida's Territorial Period, which included many examples of British pottery, as well as a comparative collection of bottles that included both handmade and machine-made examples of the progression of bottle making over several hundred years. They were also shown examples of artifacts that were illegally removed from state-owned lands. The students learned that while scientifically excavated sites can yield much information about not only an object itself but also the people that used it, artifacts that are removed illegally from a site lose a tremendous amount of information when their context is lost.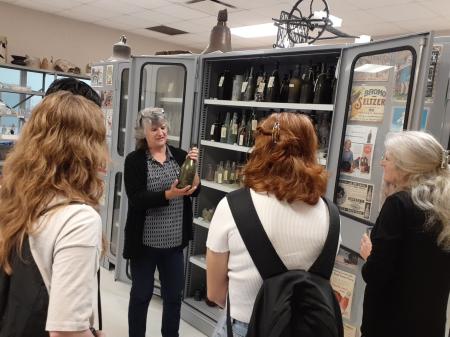 Much of the time spent at the BAR involved a discussion of the ethical and specifically legal aspects of Archaeology. BAR staff recounted the circumstances of the Operation Timucua investigative sting conducted by the Florida Fish and Wildlife Conservation Commission, with the support of the Florida Division of Historical Resources in 2013. Thousands of priceless Native American artifacts, including burial objects, were seized from 13 individuals, resulting in over 400 felony charges after a two-year long investigation into site looting and online sale of stolen artifacts. The responsibility of the BAR to analyze, contextualize, and determine costs associated with site destruction and conservation played an enormous part in the eventual charging of the individuals involved.
One of the students, Luke Denick, received an in-depth look at the Florida Master Site File with Jeremy Vause while investigating the existence of a possible archaeological site located on his parent's property. As part of the state's responsibilities, the Site File maintains a detailed record of over 200,000 known archaeological sites across Florida. In doing so, they not only comply with state and federal regulations, but also greatly enhance the ability of citizens, historic preservation professionals, government agencies, and even developers to protect our shared nonrenewable cultural resources.
Special thanks to Dr. Sam Wilford, Supervisor of Collections and Conservation with the Florida Bureau of Archeological Research (BAR); Dr. Paulette McFadden, Supervisor of Public Lands Archeology (PLA) with the BAR; Jeremy Vause, Curator of the BAR Collections; and Marie Prentice, Collections Manager of the BAR Collections.
---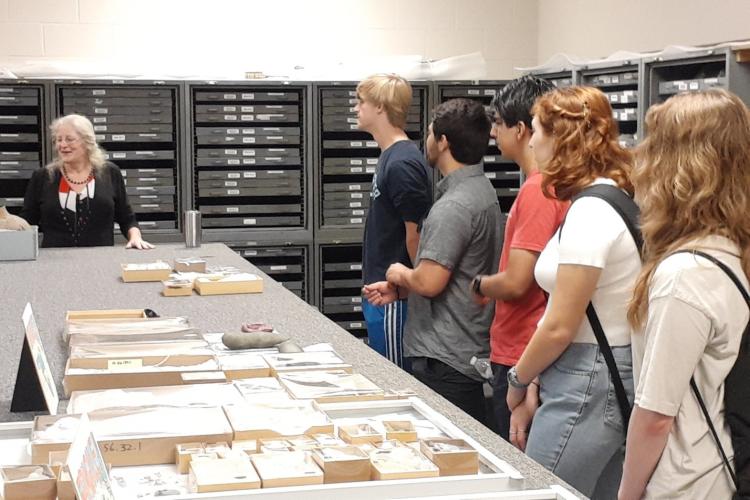 Dr. Paulette McFadden discussing particularly federal and state laws revolving around the protection and conservation of archaeological artifacts and sites.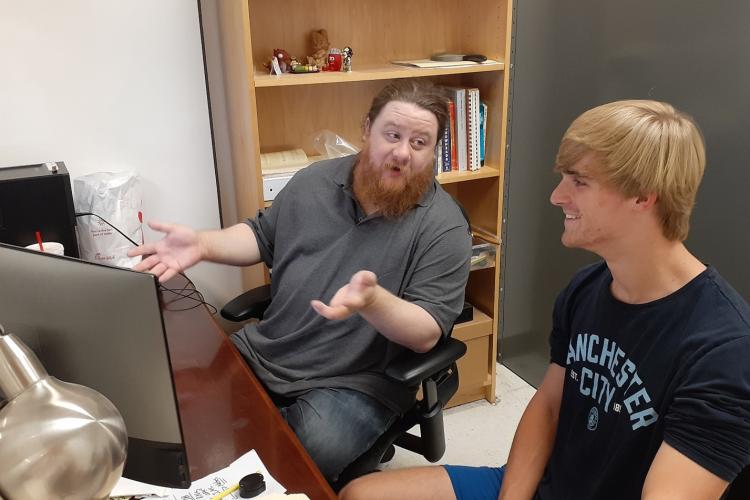 Jeremy Vause and Luke Denick determine that a recorded archaeological site surrounds his home.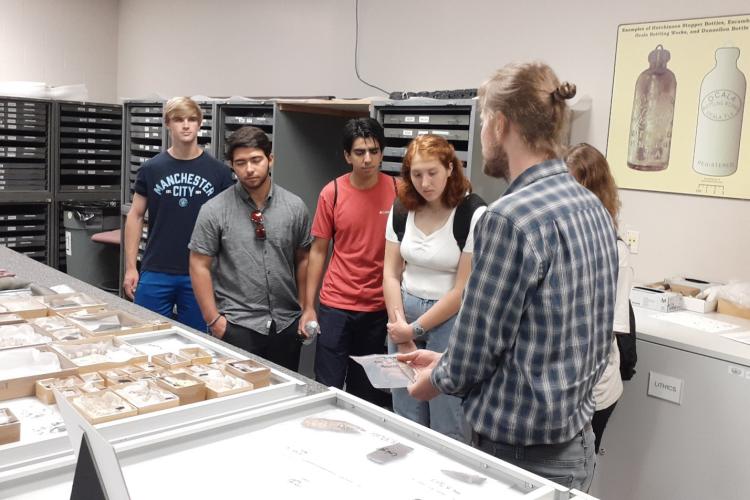 Dr. Sam Wilford showing the class a particular artifact from the Operation Timucua seizure with a price tag still attached. He stressed the loss of contextual information with these artifacts, since their site of origin, location within the site, and depth is unknown.
title-inside title-centered
2