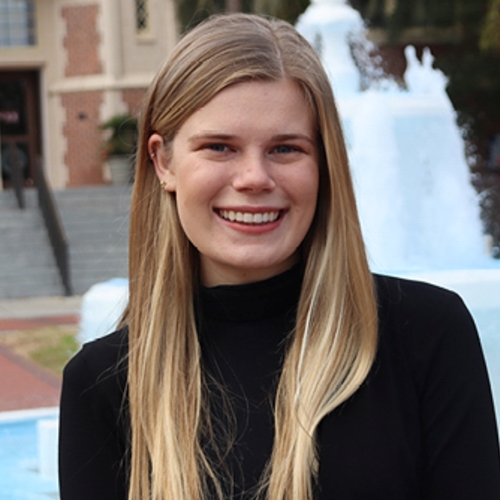 Questions for the student:
Where are you from?
"Lawrence, Kansas"
In a few sentences tell us about your Honors in the Major project! How would you describe it to someone not in your academic field?
"I examined King Abdullah II of Jordan's rhetoric regarding Syrian refugees, focusing on speeches he delivered between 2012 and 2020. Previous scholars have analyzed Jordan's policies toward Syrian refugees and classified the country as a backscratching refugee rentier state. I wanted to see if Jordan could similarly be classified when looking at the King's rhetoric instead of national policies. I found that King Abdullah II used the themes Burden and International Cooperation and the subthemes Morality, Jordanian Safety and Stability, and Solution to appeal for international assistance. Through these themes, Abdullah II emphasizes multilateralism and cooperation, and his rhetoric supports the determination of Jordan as a backscratching refugee rentier state."
How did you choose your mentor, and what do you recommend students interested in starting an HITM project look for in a mentor?
"I already knew Dr. Lababidi quite well as I had been in his Arabic classes for multiple semesters, and he advised me in my Middle Eastern Studies major. It's clear that he cares a lot about his students' success and is very supportive. I also knew that he had advised other theses in the past, so Dr. Lababidi was a very natural choice for my mentor. For interested students, I would begin my thinking about the professors you know well and consider if any of them would be a good fit considering your research topic and working style. If no one comes to mind, I recommend finding a professor that has similar research interests or has advised theses similar to yours. Once you have a mentor in mind, it's always a good idea to meet with a new mentor before committing to work together to make sure your expectations align and mentorship styles match. "
What are your plans after you graduate from FSU?
"Immediately after graduating I plan to work on political campaigns for the 2022 election season. After that, I want to work in the humanitarian and development sector with a focus on localizing and decolonizing aid."
---
Zafer Lababidi, Ph.D.
ASSOCIATE TEACHING PROFESSOR OF ARABIC, MODERN LANGUAGES & LINGUISTICS
ASSISTANT DIRECTOR AND ADVISOR, MIDDLE EASTERN STUDIES PROGRAM 
Thesis Director
Questions for the mentor:
What motivates or inspires you to mentor undergraduate students?
"The undergraduate level sets the foundations for any future researcher. This is the stage where students begin to acquire basic tools to help them examine and analyze issues. It's the inquisitive nature in undergraduates that inspires me to mentor them. Helping them take those little steps and nurturing their academic stamina is one of the main motives and why I love working with them."
What do you think characterizes a good mentoring relationship between student and honors thesis mentor?
"One of the most important things in my opinion is making the student realize that they possess hidden abilities, and that the role of the mentor is to sharpen those abilities. This realization becomes valid when students feel they are trusted in steering their work in the right direction. My role in this relationship is to support them along the way and help them tackle any challenges that may arise. I believe that students are capable of achieving greatness when they are held to a high standard and given opportunities to thrive."
title-inside title-centered
2