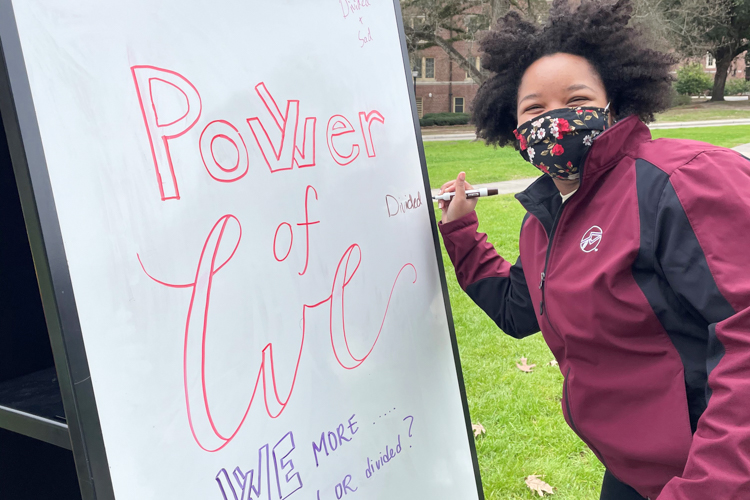 Chalkboard Conversations and Shared Spaces
february 1 & 2, 2021
by Madelyn Johnson
Power of WE is beginning a new chapter. A student-run organization started in 2016 by former Honors student Inam Sakinah in a collaboration with President Thrasher, the organization seeks to bridge civic divides on campus and in the broader community. After months of refocusing Power of WE to reflect the current political climate, Power of WE 2.0 launched this February with Chalkboard Conversations and Shared Spaces events. The seeds of the new incarnation of Power of WE were planted in a fresh partnership between Sakinah and Honors Director, Dr. Annette Schwabe. With the support of the Honors Program as well as the Office of the President, Sakinah and Honors professor Dr. Ross Moret recruited and trained a diverse team of student leaders made up of both Power of WE veterans and new participants, many (but not all) of whom are Honors students.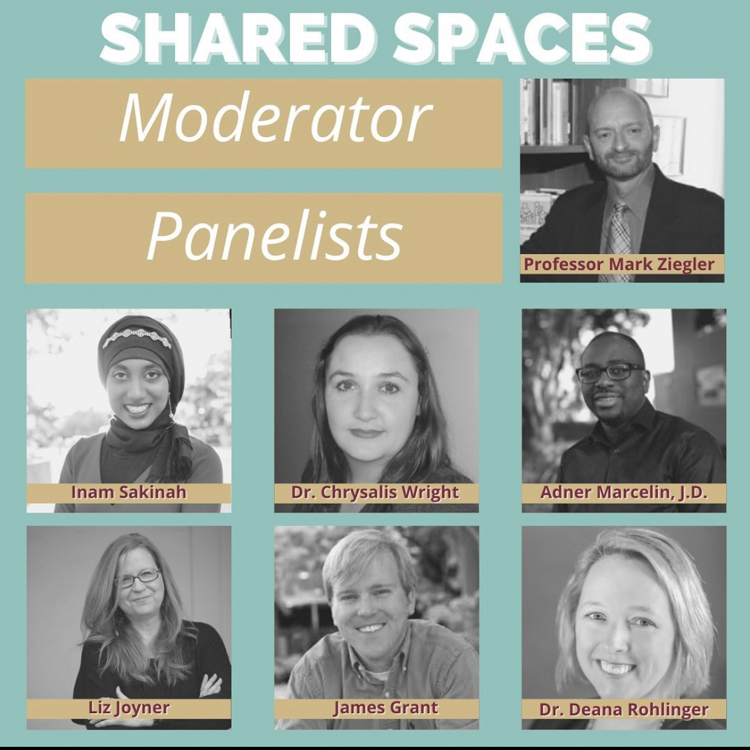 The busy week of the launch began on February 1 as executive committee members set up whiteboards on Landis Green, encouraging passing students to add their thoughts on whether social media connects or divides us. Most students answered either 'divides' or 'both,' with few students identifying social media as a solely connecting force. We reached dozens of students and engaged in nuanced conversations about the benefits and drawbacks of social media in a democracy.
Chalkboard Conversations was followed by the main event of the week, Power of WE's signature Shared Spaces event, which took place on February 2. The overarching question of the night, 'Social Media + Democracy: Are WE More Divided or Connected?' was addressed through a panel followed by breakout room discussions. President Thrasher began with powerful remarks detailing the importance of engaging across differences and intergroup dialogue. Moderator Mark Zeigler then led six panelists in discussing the impact of civic engagement online, content regulation, and algorithms. While the panelists all had significant experience regarding technology and civic engagement, their perspectives often differed, leading to a lively discussion. The most notable difference in opinion related to regulation and oversight. Some panelists believed regulation could be provided by market forces and be consumer-driven, whereas others maintained that the government and other regulatory entities should take on greater responsibility. These perspectives led to a robust dialogue in which no answers were reached but ideas were exchanged.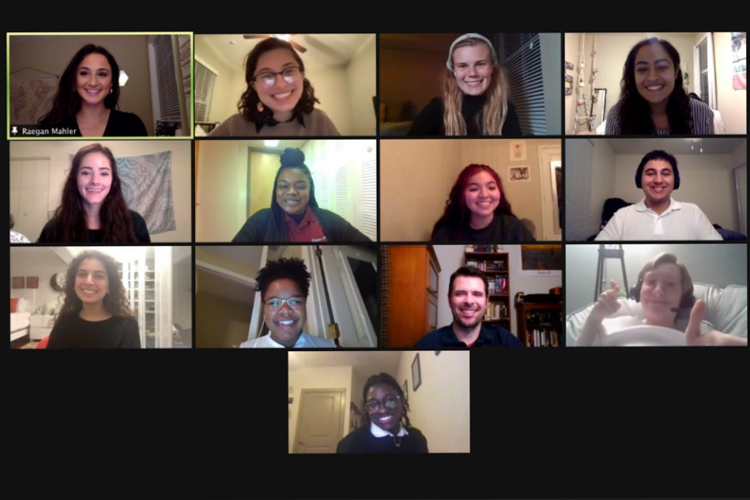 Following the panel, audience members were placed into breakout rooms to discuss their perspectives. This enabled participants to actively model the constructive dialogue they witnessed during the panel. Alexia Mullings, a Junior engineering major said, "My favorite part was the breakout room portion because it really encouraged students to formulate their own ideas and communicate with people who may disagree." She elaborated saying, "We weren't trying to come up with one right answer but rather engage with a broader range of perspectives." Breakout rooms were led by student facilitators trained in fostering constructive conversations.
Through Chalkboard Conversations and Shared Spaces, over 150 students, faculty, and community members engaged across differences and considered the relationship between social media and democracy. Power of WE is proud to foster important conversations like these and is committed to building bridges throughout campus. Connect with Power of WE on social media at @powerofwefsu to stay up to date about our upcoming events.
---
 Read more about Power of WE:
title-inside title-centered
2