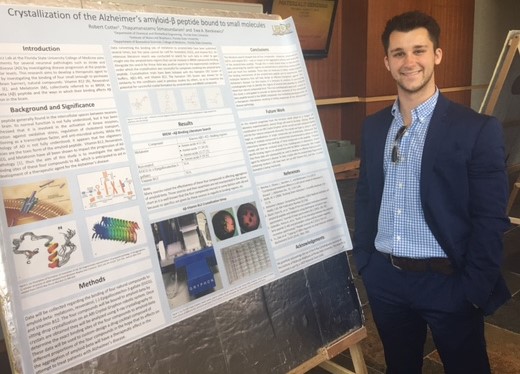 Robert Cotter
biological science
University Honors Student & Outstanding Senior Scholar
X-ray Structure Determination of Complexes of Alzheimer's Amyloid-Beta Peptide with Oligomerization Inhibitors
Questions for student:
Where are you from?
Tarpon Springs, Florida
In a few sentences tell us about your honors thesis! How would you describe it to someone not in your academic field?
Amyloid-beta is a peptide that is involved in the pathology of Alzheimer's Disease. My thesis centered around investigating the ways that four natural molecules bind to amyloid-beta in the hope of illuminating new pathways toward a treatment for Alzheimer's Disease using x-ray diffraction.
How did you choose your mentor, and what do you recommend students interested in starting an honors thesis look for in a mentor?
I met [Dr. Bienkiewicz] Dr. B at the Faculty Round Tables as part of the Presidential Scholars Program Interview Weekend back in the Spring of 2016, before I was even officially enrolled at FSU. Dr. B led my discussion group and we got to talking about Alzheimer's research. After following up with Dr. B throughout the summer and discussing logistics, she offered me a position in her lab should I choose to attend FSU. For students interested in starting an honors thesis or looking for a mentor, I would recommend browsing FSU's departmental/colleges' websites and looking for interesting research and participating in UROP.
What are your plans after you graduate from FSU?
After graduating from FSU, I was going to be participating in the recently canceled Clinical Research Internship Summer Program at Mayo Clinic in Jacksonville as I apply to medical school for the 2021 cycle. Now I am planning to work at Brooks Rehabilitation in Jacksonville to help develop resources for families of spinal cord injury patients during my gap year.
---
Eva Bienkiewicz, Ph.D.
associate professor, Biomedical Science
Thesis Director
Questions for mentor:
What motivates or inspires you to mentor undergraduate students?
I'm always amazed by the curiosity and enthusiasm with which the students delve into a research project. Students who truly focus, develop in front of our eyes as scientists, independent thinkers, and future colleagues. We watch them overcome obstacles and move on to reach their goals. Being a part of that transformation is definitely motivational and inspiring, for it is an experience that we hope will help them create a successful future.
What do you think characterizes a good mentoring relationship between student and honors thesis mentor?
I believe that effective communication is the key. For me, it starts with discussing students' future goals and how they fit with the prospective project. We then focus on science, but I make sure that they also explore and learn on their own, as the ultimate goal is to help them develop their critical thinking and professional skills, which they will carry into the next stage of their education. In this process, one must be flexible, as life often throws us curveballs. An honest conversation leads to creative solutions when any adjustments need to be made. And, simply put, the students need to know that their mentor cares. A good mentoring relationship is based on respect and trust, and it evolves through various experiences and challenges. That is why the truly good ones often last a lifetime.
title-inside title-centered
2