Serena Bradshaw
african American Studies
Black Space and the Effects of Belonging: The Black Student Union House at Florida State University
Questions for student:
Where are you from?
Miami, Florida
In a few sentences tell us about your honors thesis! How would you describe it to someone not in your academic field?
My project is titled Black Spaces and the Effects on Belonging: The Black Student Union House at Florida State University. It is about the effects of black space on predominately white institutions and how having The Black Student Union and our physical location on campus affects black students' sense of belonging. This is important because at predominately white institutions there is not much literature on how cultivating black physical space is relevant to one's place on the university. Being diverse isn't enough, it is about understanding the reasons behind the diversity and continuously using this research to provide equitable solutions for these communities.
How did you choose your mentor, and what do you recommend students interested in starting an honors thesis look for in a mentor?
I chose Dr. Buggs because she was already a professor that I knew. She was someone who genuinely cared about her students and really wanted to help. She came to me about assisting her in a research project and I decided that part of what we were researching could be my honors thesis. In a mentor, students should look for a mentor who fits their mentorship style. I like someone who more laid back and gives me deadlines, but allows for me to have most of the control. Others like more hands on work, I say just choose what is best for you. One thing that I can say is choose a mentor who prioritizes your honors thesis project, because a mentor is really needed when it comes to a lot of specific formatting and discipline specific things that are needed to make one's paper credible.
What are your plans after you graduate from FSU?
I will be continuing my education at Howard University obtaining my Ph.D in Counseling Psychology starting Fall 2020.
---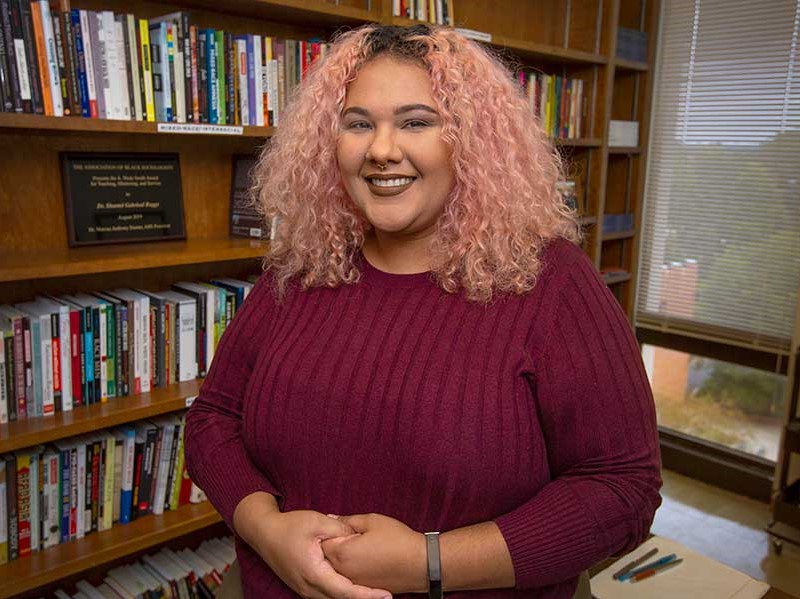 Shantel Buggs, Ph.D.
asst. professor, sociology & african American Studies
thesis director
Questions for mentors:
What motivates or inspires you to mentor undergraduate students?
Becoming a sociologist and a professor only became a reality for me because of the intervention of one of my professors in undergrad. He literally emailed me (one of 200+ students in his intro to sociology class) to say he hoped I was majoring in sociology because I had a lot of potential. That email meant the world to me. That professor is still someone I can reach out to now, nearly 15 years later. He still pushes me in my career and my work even today. The way I was supported by professors and graduate student mentors when I was an undergraduate made such a difference in my ability to see a future career for myself, but also my ability to feel like I could finish my degree. My own experiences as a first-generation college student are why mentoring and supporting undergraduate students is so important to me. I've been there, experienced a lot of the same things they have, and I think it's important to be able to say "you can do this because I did." Plus, this is just a great way to give students skills that they can use in graduate school and in other, non-academic jobs. Having the opportunity to advise honors theses has been so fulfilling because I realized how much I loved research when I did my own honors thesis project. That research project actually set me off on the research trajectory that motivated my Master's thesis and dissertation work, and influences my research today as I'm still interested in studying the intimate and social lives of multiracial people. I know not everyone is still interested in the same thing(s) 10+ years later but whatever I can do to help spark the initial interest and excitement for research I'm always happy to do. I love being able to share the joy and enthusiasm I have for doing research with students and that I get the chance to teach them all the things I know now that I didn't know when I was at their stage.
What do you think characterizes a good mentoring relationship between student and honors thesis mentor?
I think some of the most important aspects of thesis advising relationship are communication and patience. It can be easy to get overwhelmed both as student and as mentor because students typically come into this process with no experience planning or conducting their own research projects. This becomes most evident in the writing process, because writing a thesis is very different than writing term papers or essays; there are disciplinary-dependent components and expectations in terms of how to engage existing literature, how to approach methods, and how to conduct analysis (which can be messy when you're in an interdisciplinary field like African American Studies). So, being clear about expectations and providing explicit and detailed feedback goes a long way in reducing stress and making both the mentor and the student(s) tasks more manageable. What I think has been most helpful has been to demonstrate by example; my 2019-2020 advisee was using data from one of my own research projects, so we collected and coded data together. Sometimes, it is a better learning situation when you can "show" and "do" instead of just "tell."
title-inside title-centered
2