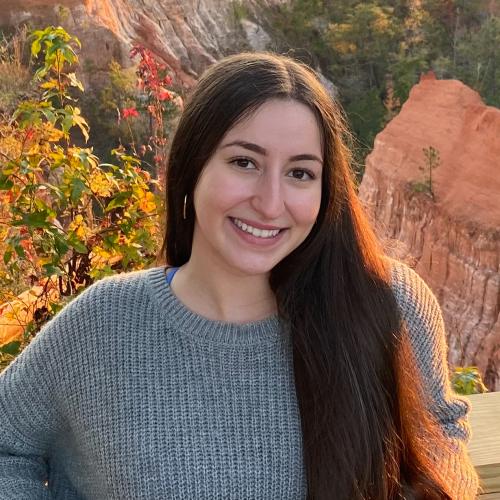 Thalia Valdes
Majors:   Editing, Writing, and Media  (Minor: Humanities)
                 International Affairs  (Concentration: Public Administration)
Accomplishments & On and Off Campus Involvement: Teaching English as a Foreign Language (TEFL) Certification Completion (Spring 2021); Certificate of Achievement for upholding a standard of excellence in learning Arabic (2019-2021); FSU Editing, Writing and Media Internship Program's "Senior Spotlight" (Fall 2021); Shining Star Award recipient for her contribution as an Undergraduate Associate with the City of Tallahassee's Office of Diversity & Inclusion (December 2021).
LinkedIn Profile: https://www.linkedin.com/in/thalia-valdes 
Graduation: Spring 2022
---
The Honors Program would like to recognize one of its recent graduates and work study students, Thalia Valdes.  Thalia worked with the Honors Program for three years, both in the front office and online during the pandemic. While at FSU, she completed a Bachelor of Arts in Editing, Writing, and Media and a Bachelor of Science in International Affairs. She worked not only in the Honors Program office, but also as a Resident Assistant in Wildwood Hall during her first two years at FSU. During her senior year, Thalia interned with the City of Tallahassee's Diversity & Inclusion Office as an Undergraduate Associate for Outreach and ADA. Upon graduation, she will continue with the City of Tallahassee while searching for a permanent position within the state of Florida. Below is an e-interview conducted with Thalia at the end of her final semester with the Honors Program and FSU. On behalf of the entire FSU Honors Program faculty & staff, we wish you great success in your future endeavors and hope you will stay in touch, Thalia!
---
Share a little bit about yourself. Where are you from? 
"I am a first-generation Latina woman born in Havana, Cuba. I was raised in Miami, FL, for most of my life by two hardworking parents who instilled in me the importance of education and community."
What is your major and what led you to select it?
"I've always been interested in languages and believe communicating with people in their native language is one of the easiest ways to connect, help others feel seen, and better understand a culture. I pursued an International Affairs major because its interdisciplinary nature allowed me to learn about topics in multiple ways, whether studying language(s), culture, systems, or history. I pursued an Editing, Writing and Media major because it was a mix of skills I wanted to develop further. I've always felt passionate about words, storytelling, and communication. This also gave me the tools to communicate more effectively what I've learned in my International Affairs degree."
Share some aspect from your time at FSU and/or the Honors Program that has impacted you and that you will carry with you as you step into the next chapter of your life's journey.
"The Honors Program's professors, staff, and curriculum significantly impacted my career path. The lessons, trips, and discussions I had about (in)justice, equality, identity, history, religion, and systematic change have further strengthened my passion for social justice and my understanding of my place in and impact on the world. Being a Resident Assistant at Wildwood Hall for two years was a big part of my undergraduate career. I met and was able to guide so many amazing people that have kept in contact. My supervisors were also great mentors. All the mentors and professors I've had at Florida State reinforce the importance of community. "
What are your outside interests beyond academics?
"I plan to learn to make pottery. I was gifted a pottery wheel for Christmas and aspire to learn at home, especially once I graduate. I am a huge animal lover. I feed the stray cats in my neighborhood and keep a bird feeder. I am interested in multimedia, content creation, and poetry."
Is there a fun fact about you that you would like to share?
"I pretended to know how to read as a child. I graduate with two degrees at the end of the month, one in English. I am incredibly proud of my resiliency and dedication. I am a native Spanish speaker and fluent in French and Arabic."
What are your future plans?
"I plan to continue working for the City of Tallahassee's Office of Diversity & Inclusion as an Undergraduate Associate for Outreach and ADA until I secure an ideal permanent position in Florida!"
title-inside title-centered
2