What is the University Honors Program?
We are a vibrant and engaged community of young scholars that excel both in and outside of the classroom. Honors students are expected to focus on areas of personal growth in intercultural communication, service, research, entrepreneurship, and leadership. They can be found all over campus doing everything from conducting ground breaking research with faculty to competing for National Fellowships to being on the executive boards of the many student organizations. Students in the Honors Program are expected to excel and they do!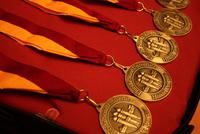 Why should I participate in the University Honors Program?
Smaller Classes: Honors sections of regular courses are generally limited to 25 students; honors seminars to 15 students;
Access to Faculty: Honors classes are taught by distinguished faculty. Professors of all disciplines are committed to bringing undergraduate students into their laboratories, studios, and theaters, not only to learn but to act as initiators and researchers of the highest level of scholarship. These teachers can become your mentors and advisors;
Great Peers: Because the classes are smaller, you can get to know other motivated, interesting students. Two student organizations, the Honors Student Associaltion and Honors Delegates, foster these connections, and provide social and service activities for the Honors community;
Specialized Advisors: Our experienced honors advisors will work with you on an individual basis to achieve your unique academic and professional goals;
"Head-start" on Medical or Law School: You can compete to earn a place in the Honors Medical Scholars Program or the Honors Legal Scholars Program, two professional-track programs that are open only to students in the University Honors Program;
Study Abroad Grants: As an Honors student, you may apply for small grants to study abroad in one of FSU's many international programs;
Honors-only Residence Hall: University Honors students may apply to live in Landis Hall, a premier honors-only residence hall that is right in the middle of campus; and
Early Registration: University Honors students have the special privilege of being able to register for courses at the same time as seniors.