To All Honors Students:
The FSU Honors Program office is operating virtually for the Spring 2021 semester and program staff are available to assist current and prospective students. To help you navigate the various changes in university policies and procedures due to COVID-19, including information on Honors policy updates, advising support, student resources and other updates, please see the FSU Honors Program COVID-19 Information page. We are checking messages on our main telephone number on weekdays (850) 644-1841.
Staff and faculty in the honors program want you to know that we are here to support you in Honors and in all of your pursuits at FSU! We hope that you are all in good health and are able to take some time to reflect on your passions, future goals, and connect with others in new ways.
The Florida State University Honors Program provides a holistic developmental environment for intellectually curious students through enriching experiences both within and outside of the classroom. We offer a multitude of academic, leadership, and community engagement opportunities to develop students who are scholars and lifelong learners. 
The Honors Program is comprised of two highly successful programs: University Honors and Honors in the Major. In addition, based on their Honors application and subsequent in-person interview, incoming University Honors students may be selected to participate in Florida State University's prestigious Presidential Scholars Program. Upon graduation, alumni can stay connected through mentorship and engagement opportunities with our alumni network, Friends of HSF. Visit the About Us page to learn more.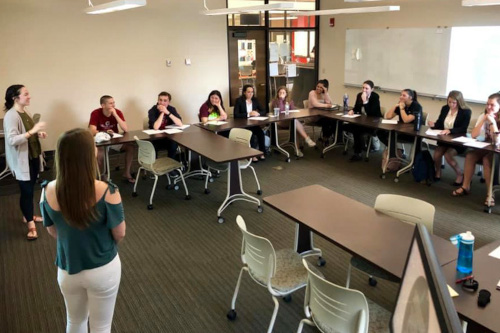 Honors Colloquium Leaders (Coming Soon)
Featured News
May 21, 2021
Recent Honors graduates, Suzan Elzawahry and Nick Hearing, receive prestigious Boren and Critical Language Scholarships.
READ MORE
May 13, 2021
Kristina Lynch, recent student-athlete graduate and Outstanding Senior Scholar, wins NCAA Elite 90 Award in women's soccer.
READ MORE
April 16, 2021
Abril Hunter, Presidential Scholar, receives NOAA Hollings Undergraduate Scholarship.
READ MORE
HONORS DEADLINES & EVENTS
Connect With Us
Follow Florida State on Instagram
University Honors
Honors Experience Program
Honors in the Major
Related Sites
Contact Information
127 Honors Way, Suite 2003
Tallahassee, FL 32306
 
Phone: 850.644.1841
Email: honors@fsu.edu
title-inside title-centered
2