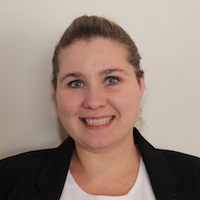 Originally from Michigan, Katie received her B.S. in Public Relations (2006) and M.S in Integrated Marketing & Management Communication (2017) from Florida State University. She joined the Florida State University Honors Program as an Assistant Director in September 2016 before becoming a Senior Assistant Director in December 2022. Prior to joining the University Honors Program, Katie worked as a Graduate Affairs Coordinator for the FSU Department of Chemistry and Biochemistry and a Senior Student Experience Associate at Florida State College at Jacksonville.
In her role as Senior Assistant Director, Katie builds Honors Program courses, plans Honors Program graduation ceremonies, works with the Office of Admissions, advises students and is the liaison to the Honors Medical Scholars, Honors Legal Scholars and Seneff Business Scholars programs.
In her free time, Katie enjoys watching sports and the Blue Angels, gardening and spending time with her husband and their pets.