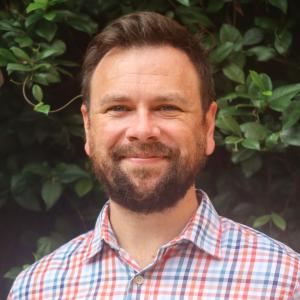 In his role as Assistant Director of Learning Experiences and Engagement, Brian Wilcoxon is responsible for developing the forthcoming upper-division colloquium series and senior capstone project, as well as creating co-curricular programming for honors students. By providing learning opportunities outside the classroom, Brian hopes to guide students to recognize their personal and intellectual strengths, and to help them find ways of using those tools to impact their communities and the wider world.
Brian grew up in Philo, Illinois, a small town south of Urbana-Champaign, and received his B.A. in Classics and Music from Monmouth College. After earning the M.M. in Music History from Butler University in Indianapolis, Brian moved to Tallahassee to pursue a Ph.D. in Musicology. While writing his dissertation on the community-building musical practices of modern-day Benedictine monks, he began work as an undergraduate advisor in the Department of Physics at FSU, which led to his current professional interests.
In his spare time, Brian loves to spend time with his wife Kimi and their two cats. He's an avid runner, reader, musician, bread baker, home chef, and lover of the Florida Panhandle.
title-inside title-centered
2