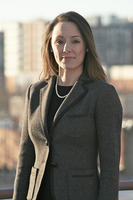 Meet Cara, a Florida east-coaster and 2006 FSU Honors alum with a passion for helping others and living life to its fullest.
Currently residing in Ann Arbor, Michigan, Cara used her FSU Honors program experience to help jumpstart a career in public sector administration and policy, where she strives to help people improve their lives and the lives of their families. Her journey has even taken her to the White House, where she worked for a year after interning for then-Senator Barack Obama.
"The Honors Program made me feel like I was at a small school that was deeply invested in my future. I felt like the advisers and professors were cheering me on, through tests, presentations, and interviews. There is so much value in letting someone know that they matter. That is what the Honors Program did for me. The small classes, smart advisers, and special social events made me feel important, and in turn made me work harder to not let any of these opportunities be wasted," she says.
So, besides focusing her energy on the creation of a social-impact start-up in Ann Arbor, what else keeps this FSU Honors alum busy?
"I spend a lot of time doing hip-hop classes, throwing pottery, training for triathlons and I mentor a local teenager. I am also perpetually trying new hobbies; I always want to push myself to learn new and challenging things like playing the guitar, ballet, and gardening. It is easy to lose focus of how special this life is, and hobbies help me find balance … to keep from losing touch with reality," she adds.
In looking back at her time in the Honors Program, Cara notes a particular moment that really defined the rest of her college experience.
"The Honors Program does a seminar class for first semester freshman. The class is full of good information about maximizing college. One week the class was focused on national scholarship programs like the Rhodes. I don't think anybody would have mentioned the Rhodes to me in any other setting. I sat through that class and set a goal for myself: I wanted to be qualified to apply for the Rhodes. The Honors Program provided me exposure to an opportunity. If I had never seen that presentation, I am not sure where I would be now, but I would be willing to bet it would not be where I am today," she says.
And with the new school semester underway, Cara offers up this last bit of advice for everyone. "There are so many different paths we can all take. You will never find many of these paths if you are not moving forward, reaching out of your comfort zone and being open minded. Everyone should have a specific tangible goal to work towards. You may never achieve that goal but the momentum from moving towards your goal will carry you someplace great," she says.