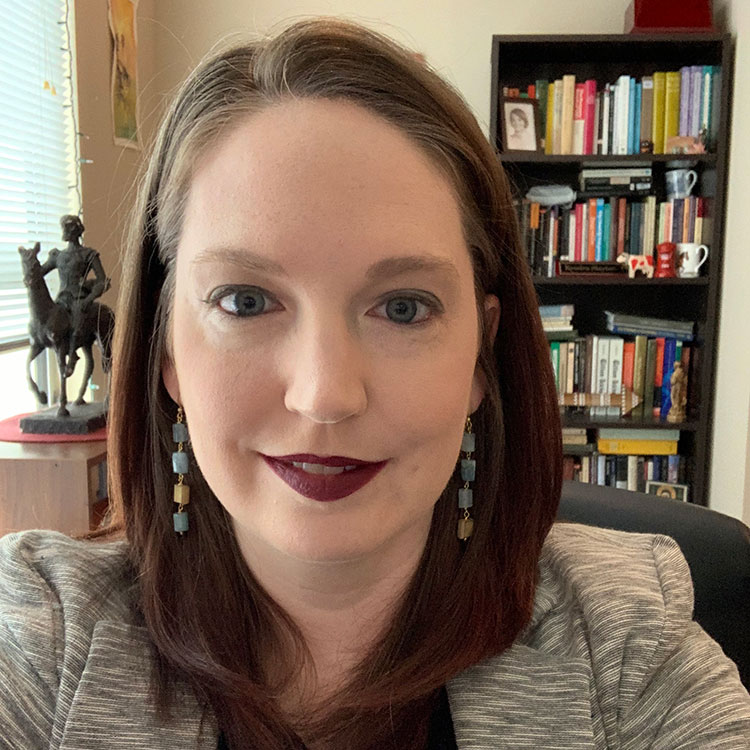 Kendra Slayton is a medievalist with specializations in Middle English and gender, holding an MA and PhD in English literature from the University of Tennessee. Her scholarship analyzes the literary and self-representation of medieval women and the social construction of gender and power, as well as questions of agency and free will. She is particularly interested in interdisciplinary approaches to studying and teaching medieval culture, including literary theory, feminism, theology, and sociology. Dr. Slayton has published articles on gender and the classical past in medieval romance and on the contemporary medievalism of the British author Angela Carter. She has also published pedagogical articles and podcasts. Her current book project, a revision of her dissertation, is tentatively titled Unnatural Inclinations: Gender and Social Determinism in Chaucer. In it, she argues that an examination of Chaucer's theological interest in free will necessitates simultaneous analysis of his sociological impulses, particularly his exploration of gender and power. Examined through such a lens, Slayton argues, Chaucer's works dramatize the warping of human natural inclination away from medieval Christian ideals and instead toward hegemonic, hypermasculine ideologies that enact systemic social determinism, particularly circumscribing female characters. In her teaching, Dr. Slayton is further invested in introducing students to the Global Middle Ages, including medieval travel narratives and non-European premodern texts, in order to counter Eurocentric and nationalistic narratives of the premodern world. Before joining FSU, Dr. Slayton was a Marion L. Brittain Postdoctoral Fellow at the Georgia Institute of Technology, where she taught multimodal composition and co-administered and tutored at the campus Communication Center. Most recently, she was a Visiting Assistant Professor at Clemson University. Outside of teaching and research, Dr. Slayton enjoys fantasy and sci-fi, fitness activities like yoga, cardio kickboxing, and archery, and loves cooking (and eating!). She also has two cats and would be happy to inundate you with photos.
Nature vs. Nurture in Premodern Europe - HUM2937
While modern series like Westworld and The Good Place have explored human nature and the construction of individual identity, medieval people, too, wondered about how sociocultural forces may affect individuals. How do we come to believe what we believe? How might cultural practices that seem innate be socially constructed over time? In this class, we'll pursue these questions by considering both modern and premodern media, such as how Marie de France, one of the earliest female writers in Europe, interrogates social pressures on private love; we'll also consider philosophical, theological, and legal texts, such as post-plague sumptuary and labor laws regulating individual behavior and social mobility, while considering modern sociological theories on the construction and reproduction of social mores. Projects may include an argumentative essay; a historical context presentation; and a creative adaptation.
Mapping the Middle Ages - HUM2937
Contrary to common assumption, the medieval period was rich with cross-cultural trade, travel, and scholarship. In this course, we'll study travel writers such as the English mystic Margery Kempe and Ahmad ibn Fadlan, a Muslim diplomat who met Viking traders along the Volga River. We'll also read global literature outside the European canon, such as the Mali epic Sunjata; the ancient Ballad of Mulan and Tang dynasty poetry; and premodern Japanese classics like the Tale of Genji. The course will allow us to think not only about premodern cultures generally, but also about where our assumptions about the past come from, and why that matters. Projects may include a pilgrimage badge design; a historical context presentation; and a StoryMapJS visualization.